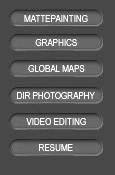 Have a big vision with a modest budget? I am able to provided; photo realistic environments, set extensions and matte paintings to enhance your project. From smaller budget documentaries to large scale Hollywood productions RECENT CREDITS: Doodle Bops CBC/DISNEY
Bellow are some of my mattepainting from various projects I have worked on from documentaries to the hit children's show The Doodlebops which I was a senior design and matte painter on.
All Images copyrighted by Michael Dalton-Smith, or by permission.
DIGITALCROSSINGProductions
www.digitalcrossing.ca
NEWS
ULTIMATE AFRICA
Mattepaintings in a nature show? Yes, taking advantage of my matte skills, I created several matte painting to enhance my series, and for the re-creating sequence about the father and son team, Bernhard and Michael Grizmeks for my Serengeti Episode.
The only copyright free image was available courtesy of the Dornier Aircraft company of the DO 27 on the runway in Germany. I need the plane in the Serengeti. Also the airplane was modeled in 3D Max and animated in Maya.
If you are interested in learning more about this series, please visit my website where you can find air dates, and my directors blog. www.ultimateafrica.tv


DOODLE BOPS
Doodle bops was perhaps my favorite contract, as I got to play an important role as one of the senior artist. I provided all the mattepaintings for seson 2, and was the key designer in the doodlebops tour bus's paintjob.