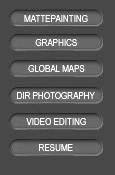 EMAIL
michaelds(AT)
digitalcrossing(DOT)ca
FREELANCE CAMERA
Need a shooter you can depend on with a great eye?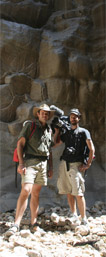 Filming in the Serengeti, Africa.

I have filmed in some of the most physically demanding and remote palaces in the world. From wildlife in Africa, and the summit of Kilimanjaro, to the interesting cultures of Mexico, nothing is out of my realm.
Visit my camera page

On Mt. Kilimanjaro
Have a big vision with a modest budget? I am able to provided; photo realistic environments, set extensions and matte paintings to enhance your project. From smaller budget documentaries to large scale Hollywood productions RECENT CREDITS: Doodle Bops CBC/DISNEY
One of the most important elements in your documentary or live action production is the graphics. I have the ability to create quick, affordable exciting looking graphics and maps. I have worked on numerous productions from the feature film "On the Sixth Day" to documentaries for Discovery Channel.
3-D MAP GRAPHICS FOR DOCUMENTARIES AND FILMS
Need to show the world where you are talking about?. I can provide striking graphical maps that are rights cleared. From simple locations to complex fly through of actual terrain. Using all the latest mapping software and 3-D technology. Prices vary depending on the projects. I have the ability to provide map animation in any format from DV to HD or Imax.
EMAIL ME
michaelds(AT)digitalcrossing(DOT)ca
Please substitute the (AT and DOT), as bots scour page for email, this is the only know way to avoide spam.
---
All Images copyrighted by Michael Dalton-Smith, or by permission.
DIGITALCROSSINGProductions
www.digitalcrossing.ca
NEWS
ULTIMATE AFRICA
Production has wrapped on Ultimate Africa for Animal Planet, my first series as a director and producer. Ultimate Africa debut was successful, finishing in the top ten in the ratings for the network.
If you are interested in learning more about this series, please visit my website where you can find air dates, and my directors blog. www.ultimateafrica.tv


FREELANCING AGAIN
I am once again looking for short or long term contracts in various fields of production.


COMPOSITING & FX
I have worked proffessionally as a visual effects compositor at several large post houses in Toronto and Vancouver.


PROGRAMS USED:
Shake
Flame & Inferno
Combustion
After FX
Maya
Illustraitor
Photoshop
Avid ....
CREDITS
FEATURE FILMS

On The Sixth Day (graphics)
Hypercube
(compositing)
Men with Brooms
(compositing)
Arrarat
(compositing)
Blizzard
(compositing)
Airbud III
(compositing)
TELEVISION
DoodleBops (Mattes) CBC/Disney
Sounder (Mattes) ABC miniseries
Ultimate Africa Animal Planet (doc series)
Tequila (doc)
Remembering Kilimanjaro (graphics)
Tales from the Grassland/Discovery (maps)
Higer Ground

PLEASE SEE MY CAMERA AND EDITING CREDITS ON THEIR RESPECTED PAGES